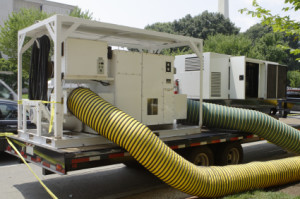 When your home or business is flooded due to a plumbing issue, leak, or natural disaster, don't wait to seek water damage restoration assistance. The licensed and insured professionals at Eco Safe Mold Removal are here to provide restoration water damage services that will help you deal with flood fallout and get you back into your home or business again. 
Contact Eco Safe Mold Removal as soon as possible after a flood or other water-damage event to have your situation assessed. The longer water soaks into your floors and walls, the greater the likelihood of serious, possibly irreparable, damage that will leave you with a great financial burden. A flood can leave your belongings stained and cause mildew to form even after the water recedes. Standing water is dangerous because it can effectively weaken the structure of your building, making it a hazardous place to spend time. Flooding also often leads to mold growth, and in the case of a natural disaster, flood waters can bring with them bacteria and other microorganisms that can prove hazardous to your health. For these reasons, it's imperative that you contact a flood restoration specialist to assess the situation and help you resolve water damage issues quickly and safely. Here at Eco Safe Model Removal, we're ready to give the assistance you need whenever you need it the most. Our team responds quickly in emergencies and provides some of the highest quality restoration service in NYC. Contact us today for help salvaging and safeguarding your home or business from water damage.
How water damage affects your property depends on a number of different factors, and that's why you need flood water damage restoration that's specific to your circumstances. When you contact us with a water restoration scenario, we'll create a customized plan to fix the problem. Our services may include any of the following:
Standing water extraction
Debris and damaged material removal
Drying and dehumidification
Mold prevention strategies
Our goal is to get your building and its contents back to their pre-flood state as soon as possible. We'll help you salvage soggy items and dispose of any materials that are too damaged to save. As a mold remediation specialist, Eco Safe Mold Removal also knows how important it is to keep your property safe from mold, so we'll employ fans and strategic air management to eliminate lingering moisture and keep mold from taking up residence in your home or office. With eight years of flood damage restoration experience in NYC and beyond, we're ready to tackle your water damage crisis no matter how complex.
At Eco Safe Mold Removal, we understand how frustrating and devastating a flood or burst pipe can be to your home or business. That's why we strive to make the water damage restoration process as stress-free as possible and to minimize the disruption to your home life or business operations. We pride ourselves on offering some of the fastest and most efficient water restoration service available in the area, all at a price that meets your needs. If you need help following a flood or water-damage situation, contact our team of flood damage pros today!