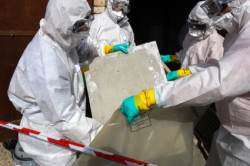 If you discover asbestos in your home or workplace, don't hesitate to bring in the pros at Eco Safe Mold Removal to deal with the situation. Our seasoned asbestos removal service providers have the necessary hands-on experience and are ready to help you get rid of this extremely hazardous material quickly and safely. Call us now to discuss your asbestos removal options or to make an appointment with our asbestos removal contractors.
Although asbestos use is tightly regulated today, it's present in many buildings built before 1979. If asbestos was used in the construction of your home or office building, it's vital to have it removed immediately, particularly if the materials are damaged or deteriorating. Inhaling asbestos fibers can cause serious health problems, including:
Respiratory issues
Asbestosis
Skin problems, known as asbestos warts
Cancer (specifically mesothelioma)
Hiring an asbestos removal company like Eco Safe Mold Removal can lessen your risk of contracting these serious diseases. We'll get the asbestos out safely and thoroughly so you can get back into your space right away. We offer some of the fastest asbestos removal in NYC and beyond, but we don't cut corners on any of our services. Don't wait to contact us—your safety and health depend on it!
If an inspection has uncovered asbestos in your building, bring in Eco Safe Mold Removal to handle the entire removal and disposal process. We'll take all of the necessary precautions to ensure your safety and the safety of our employees during the asbestos abatement removal process. We're 100% committed to getting your building asbestos-free, and that means making sure no hazardous materials slip through the cracks. Once all of our safeguards are in place, we'll remove any and all asbestos and dispose of it properly, following the federal government's strict regulations for asbestos removal. We can even perform interior demolition services to remove asbestos from your property. When we're done, you can rest easy knowing that your asbestos problem has been resolved for good. 
Eco Safe Mold Removal is fully licensed and insured, so you can have complete confidence in us to remove asbestos from both residential and commercial buildings. Our asbestos removal team works on spaces of all shapes and sizes, so you'll get the same fast and expert service whether we're cleaning out a single room or a multistory office building! We've been providing high-quality asbestos abatement removal services throughout NYC since 2004, and if you need asbestos removed, we're the company that has your back.
You can't afford to settle for a second-rate asbestos removal company when the health and safety of your building's occupants are at risk, so bring in our pros instead. We pride ourselves on offering some of the most affordable asbestos removal in NYC, so don't miss out on our great rates for superior service. Call or e-mail us today to learn more about removing asbestos from your space. If you've got a problem with asbestos in your home or workplace, Eco Safe Mold Removal is here to offer you a lasting solution!